Gaming virtual worlds are becoming so ubiquitous that they are even appearing in the facebook social networking platform.  What I provide below are some examples of these various social games.  The question I would like to pose to our readers is this: Do these facebook apps qualify to be virtual worlds? And why or why not?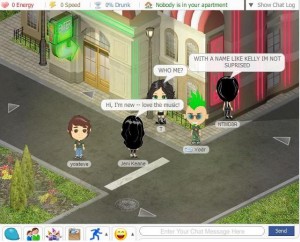 YoVille:  In the first of what could be classifiable as true virtual worlds, YoVille is produced by app developer Zynga, the most profitable app developer on facebook.  In YoVille you can decorate yourself and your house, buy items, send gifts to friends, visit friends, and play a variety of games. At one time, you could invest in the baking of cakes and cookies, where they could be produced over a certain time and then sold for profit. However, they have since reverted to rewarding bonuses for making an appearance at the Factory.  In the first version, you could get drunk at the nightclub, making your screen go blurry, and you could encounter strangers to make new friends.  In the beginning, the app would be crowded with people.  Since then, you encounter fewer and fewer strangers,  until now when you are only likely to encounter people you have already friended on Facebook.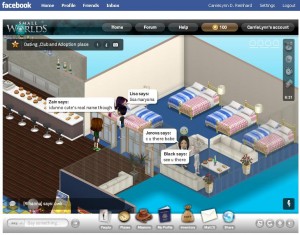 SmallWorlds: SmallWorlds is unique in that the potential true virtual world exists as a separate website: it is an in-browser virtual world that has created an app for users to access their account without leaving the facebook platform. In SmallWorlds, the user has more control over the customization of the avatar than s/he does in YoVille. Also, there is no production scheme integrated into the world; instead, the user gains money and experience by going on missions. As with YoVille, the user is given a house to decorate as a starting base. Consistent in SmallWorlds is the potential to make new friends via strangers; this is especially important as it is not as integrated into facebook as is YoVille, meaning that the friends list of facebook does not inform who one's friends are in SmallWorlds.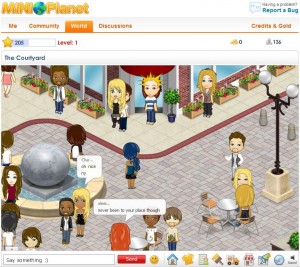 MiniPlanet: One of the newest arrivals to facebook, MiniPlanet seems to be a hybrid of YoVille and SmallWorlds. In appearance, the interface and graphics are very similar to SmallWorlds, but it is developed strictly as a facebook app. As YoVille experimented with, there is a production component to MiniPlanet, where each person has not only a house to customize but a store from which s/he can sell goods to earn money. As with the old YoVille, in MiniPlanet you have both facebook friends to socialize with, and there are places to chat with strangers to make new friends. As it is the newest of the three, there is not as much to do in the game; but given time, it has the potential for user-generation that SmallWorlds encourages, as does YoVille but to a lesser extent.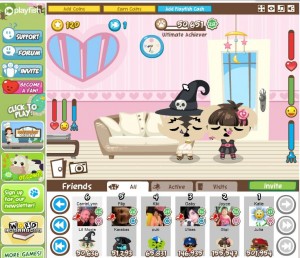 Pet Society: From another big apps developer, Playfish, Pet Society is one of the first social games on facebook to offer the user the ability to customize an avatar — in this case a cartoonish animal — decorate a domicile, and, by inviting and interacting with facebook friends, to increase in experience and the ability to buy items. Since it was first release, the game has become more complex, as more games and ways of earning money have been introduced, so that now the user can grow food in a garden and cook meals in a microwave, all for profit. However, there is no chat function as with the previous three games; there is an ability to make new friends via visiting strangers' houses. As with YoVille, gifts can be sent to friends; unlike YoVille, this can only happen from inside the game.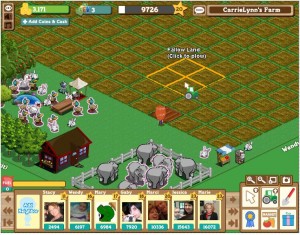 Farmvillle: The largest social game on facebook, with currently around 74 million active monthly users, this social game is the reason Zynga is the powerhouse of facebook app developers. Again the user can customize an avatar, but instead of a house, s/he is given a plot of virtual land to grow crops on. As it is from the makers of YoVille, the user can visit his/her facebook friends' farms and perform chores for them, for which they receive money and experience. There is also the potential to chat with strangers in a marketplace as the user seeks help to tend to his/her farm. However, the socializing aspect is not as prevalent as in YoVille: the purpose of this game is the production of crops for leveling up.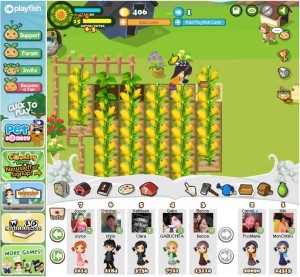 Country Story: Another entry from Playfish, Country Story is their attempt to make a farming social game like Farmville — a type of game that has the most copycats on facebook as various app developers attempt to replicate Zynga's success. Country Story shares Farmville's focus on the production of crops. However, it differs in a variety of ways. There is less of a community feel, especially as there is no in-game chat feature to meet other players. Instead, the user is given a variety of tasks, or missions, to complete, as one way to level up. S/he can visit facebook friends' farms, and like with Farmville complete tasks for them; however, s/he can also steal their crops for his/her own personal game. As it is from the makers of PetSociety, it is more cartoonish, but it is also more of a fluid animation than Farmville. Unlike PetSociety, there is no way to visit strangers' places and thus make new friends.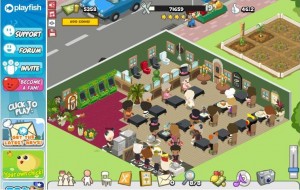 Restaurant City: Another entry from Playfish is the social game Restaurant City, apparently the first of a different type of social game. Rather than grow crops, the user is given a restaurant to make and sell food. The major customization of the game is the restaurant, which can be decorated with an ever increasing inventory of items and is expanded as the user levels up. Avatar creation is minimal, but the user can hire his/her friends to staff the restaurant, with the ability to give the staff uniforms. Money and experience are earned by serving customers. The user must balance the staff's jobs by allocating who cooks food, serves food and cleans the restaurant. If a proper balance is not achieved, customers will not be satisfied; the more the customers are satisfied, the more customers the restaurant will get, and the more money and experience can be made. Thus, the user is not directly controlling the production of food; s/he is controlling the performance of his/her staff to keep the customers happy. After making decisions about menu and staff allocation, the user can sit back and watch what happens, making changes as s/he sees as needed — it is the digital equivalent to owning an ant farm. As with other Playfish games, the user can visit his/her friends' restaurants to do chores, trade food, and send gifts. While the user can visit strangers' restaurants, there is no way to interact with strangers, unlike in PetSociety.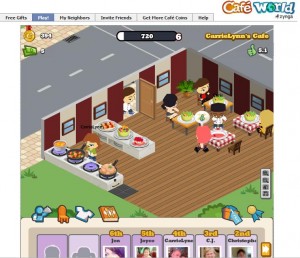 Cafe World: After Playfish released Restaurant City, their main competitor Zynga released Cafe World. Another of the restaurant apps, again avatar customization takes a backseat to restaurant decoration. As with Restaurant City, the user can hire his/her friends to be staff members. However, unlike the previous, in Cafe World all hired friends are automatically wait staff; the only cook is the user. The goal of the game is not to balance the staffing of the restaurant, but the creation and distribution of dishes. As the user levels up, more and more dishes become available on the menu, and each dish costs a specific amount to make, takes a specific amount of time to prepare, and will bring in a specific amount of profit. As with Restaurant City, friends' restaurants can be visited and chores performed for reward, and again there is no means by which to contact strangers. This lack of in-game chatting makes Cafe World different from the other Zynga examples provided here.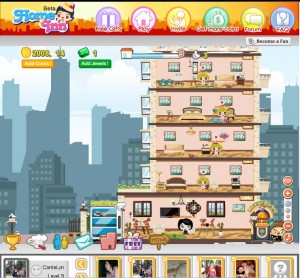 Home Inn: The final example here is a unique social game as I have not yet encountered another like it. Instead of having a farm or a restaurant, the user operates a hotel. There is customization of an avatar, but the main focus is the decoration and building of a multi-level hotel where each room is rented out to a friend or special guest for a specific period of time. While the guest is in residence, the user is expected to keep the room clean, keep the guest happy, and provide food. The happier the guest and the nicer the room, the more money and experience are rewarded. Food is produced in a kitchen using a method similar to that of Cafe World. As with all these games, the user is able to visit the hotels of friends to do chores for extra money and experience, as well as send gifts of decoration and food. Again, with the majority of these production-focused social games, there is no ability to visit non-friends' hotels or engage in in-game chat.
Across these examples we can see various facebook apps that have been developed on the basis of social gaming: of providing gaming opportunities for users to earn some virtual prizes by sharing the gaming experience with as many of their facebook friends as possible. In some ways, these are all virtual worlds because they are digital environments that people share, are represented in via avatars, and which, in some way, persist without their involvement, whether through production processes or the activities of other users. However, not all of these games involve worlds where users share the digital space concurrently. Especially in those worlds that are intended to be production-based social games, most communication with others occurs asynchronously, by visiting friends and sending them gifts and/or messages.
Also, regarding the issue of avatars, all games have a humanoid character representing the user to other players; at the same time, the house/farm/restaurant/hotel that the user customizes can also be considered as an extension of the user's identity, as it is another way the user is represented inworld to other users. Of course, the majority of these representations are static and are not highly controlled moment-by-moment by the user — but the control of the system in Restaurant City does come close to producing a multiple entity avatar, similar to the relationship between game and user created in such games as SimCity.
Thus my question remains: are these facebook apps virtual worlds? If so, does that mean our definitions for virtual worlds need to be examined? If not, why not, and what do we call them?